Discover more from Under The Knife
The best injury information for sports fans and bettors.
Over 1,000 subscribers
Under The Knife 3/5/20
Sale, Bellinger, Beede, Hamels, Grandal and more
If it feels like you're seeing a lot of illnesses in camps right now, you're not entirely incorrect. I'm not sure it's a bigger number than normal, but with COVID-19 going around, teams are definitely taking the illnesses they see seriously. Mostly, players are being checked and sent home to try and keep the spread to a minimum, but that's tough in the locker room and travel environment of baseball.
There's not even a hint of a COVID-19 infection, but most teams are ready for it if it does. As young, strong, healthy men, the players are unlikely to bear the worst of it even if they do get it, but being in a park with a lot of people and in close proximity, even inside, teams do have to be ready for whatever happens, down to a quarantine or even something more extreme if the situation calls for it, as it has in Italy.
The one thing we have seen is that teams are asking players not to wade in and sign autographs. Some teams and players are signing balls and tossing them to people, which seems like a great compromise to me. It at least shows that they're thinking and considering the experience of the fan as well as the safety of society. For now, wash your hands and let's get to the injuries:
Chris Sale (SP Red Sox)
The Red Sox are expected to announce that after consultation with top surgeons, Chris Sale does not need Tommy John surgery. But you already knew that. The issue becomes not what he doesn't need, but why his elbow is inflamed and what the next step is. Ron Roenicke told the media that Sale has a mild flexor strain, which is the proximate cause. Sale will shut down for a bit until the flexor heals, then re-start his throwing program. He's at least two more weeks behind, but the throwing program will not be shortened to get him back.
The flexor strain isn't good news, but this certainly could have been worse. I don't think we can read much, if anything, into the multiple opinions. This is exactly what the Red Sox did with David Price and consulting with two top surgeons in addition to team doctors is not unusual. That it took a day to consolidate all the opinions isn't unusual, since they normally come in writing as well as a quick call, which requires some scheduling.
The schedule will handle itself, but the question I have is how the flexor got damaged or at the very least inflamed given a very low workload and reasonable ramp. Given his history of issues, this is definitely problematic and may require constant maintenance to get him through. Flexor strains and UCL sprains seem to be interrelated, though we don't know exactly how. (Yeah, note that one for a future Special column.)
The best case scenario is that Sale is throwing again in ten days to two weeks. No, Tommy John surgery is not inevitable and he shouldn't just have it now. I know that SoxFan99@aol.com thinks he's knows better than Jim Andrews and Neal ElAttrache, but luckily the Red Sox don't agree.
Clay Bellinger (OF Dodgers)
The whole "baseball star goes to Top Golf and rockets a drive into the night" is a pretty good YouTube genre at this point, but it was bound to end with someone hurting themselves while doing a similar but non-identical move. Clay Bellinger is hoping you'll believe it wasn't him that did it, after his back tightened up on him just a day after his impressive video hit the tubes.
If so, it could be a lot worse. Bellinger has a "knot" in his lower back, just enough to keep him out of a spring training game and to work on by the medical staff. There doesn't appear to be anything structural and given that its not even mid-March yet, why push it at all? (Answer: you don't.)
I don't want to be the fun police and things like the viral videos of Bellinger, Mike Trout, and good lord what did Nelson Cruz do to that golf ball are good for baseball. Then again, it's all fun and games until someone gets hurt. Players have hurt themselves packing (Jonathan Lucroy), sneezing (Sammy Sosa), and all sorts of other things, so golf is fine. There's a balance and teams that trust their players to not do stupid things and to accept the consequences when something does go south would also be good for the game.
Bellinger's back? I'm not worried at all.
Tyler Beede (SP Giants)
Tyler Beede has both a flexor strain and a significant UCL sprain. He's getting more opinions, but the doctors he's spoken to so far have not recommended Tommy John surgery. That means that sprain is under a third (33%.) Most doctors will recommend Tommy John surgery when the sprain is more than 25-33 percent, but looking at an MRI is not as exact as most think. Just look below at this one I found on Dr. Chris Ahmad's site: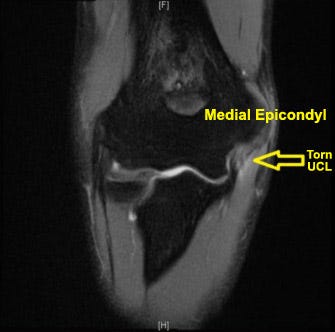 Unless you're a radiologist - and even if you are - you can see that trying to say "this is x percent" is unlikely to be precise. In this case, the ligament is clearly damaged and a good example, but there's many that are much less clear, which is where Beede's must be.
Even without surgery and in the best case, with a good rehab, good response to biologics, and everything healing properly, Beede is going to miss a good portion of the season. He's going to be shut down for weeks, then have to ramp back up to a starter's workload in-season. At 26 and coming off a season where he lost both velocity and command, likely due to early issues with the elbow,
Beede does have age and a solid medical staff going for him, but at this point, he's a speculative play at best for all but the deepest fantasy leagues. The Giants have some options, including Tyson Ross, for the back end of their rotation, but with Beede, a returning Johnny Cueto, and an interesting gamble on Kevin Gaussman's shoulder, the Giants rotation is a house of cards based on the confidence the team has in Dave Groeschner and the medical staff.
Cole Hamels (SP Braves)
Cole Hamels has come a long way from the high school kid that helped out with a photo shoot for Saving The Pitcher. His career is drawing to a close, but he's got a chance to be an important bridge starter for the Braves this year and I think the way they're handling him early in the season is interesting. Worrisome, but interesting.
Hamels hasn't thrown yet in camp after arriving with an "irritated" shoulder. I'm told that the underlying issue is inflammation in the back of the shoulder, though the cause isn't publicly known.
All you have to do is look back to last year when Dallas Kuechel came in mid-season and helped push the Braves to the NL East title by four games over the Nats. It appears that the Braves are seeing that Hamels return is worst case what they got from Kuechel. That might be ambitious on a production basis, but if the medical staff can get the irritation out of his shoulder, there's no reason to think that Hamels can't put up 110-120 innings of positive pitching. Getting to the 140 he put up last season would be even better.
The conservative approach makes sense in this context, but is key on being able to get the shoulder ready. Remember that Hamels has passed a couple physicals - when he signed and when he reported to camp - so the team has to have some confidence that they can get him ready. April is likely out and until he begins his throwing program, putting a timeline on this is difficult. I'm still quite positive on Hamels, though if you're looking at him in fantasy, you're going to have to adjust a month, maybe more, out of your projections.
Jorge Alfaro (C Marlins)
It's easy to forget the Marlins are still in the league sometimes. The situation under the current management doesn't feel like the Orioles with a rebuild or even like the Huizenga buy-and-sell Marlins that managed to come away with a couple World Series rings. This is just what happens when the wrong people run a franchise the wrong way. At least they got rid of that damned "sculpture."
That's not to say there isn't talent. Jorge Alfaro has been through a couple organizations and been a key to trades for good players. He may not be the Pudge Rodriguez clone he was thought to be early - no one gets my hopes up like Jamey Newberg - but he's a solid, above-average catcher with some pop who's headed into his age-27 season. He's also avoided any major, chronic injuries along the way.
If he's headed for a peak season or at least a step up to the next tier of catchers, he'll have to get past an early season oblique strain. It's not major and these tend to be pretty standard. A decade ago, they were problematic, with recurrences and shaky timelines for return. Now, not so much due to better imaging and simply more practice with them. Alfaro isn't doing much yet, but it shouldn't take him long to get his swing back. Opening Day, even earlier than normal, shouldn't be an issue as long as we see Alfaro back on the field in the next ten days, which seems entirely reasonable.
Yasmani Grandal (C White Sox)
Yasmani Grandal is getting a bit of a late start to his spring training. He's running, hitting, and even caught three innings in a B game. So far, all is going well and he could be in regular games as soon as tomorrow. The Sox will be conservative with him not just in spring training, but throughout the season to keep him healthy.
Grandal went 153 games last year as the Brewers used him heavily while he was on a one-year deal with them, as they should. Grandal has always been relatively healthy and able to withstand 120 plus games, but the catching load is real and his value is in his bat. That's why the Sox kept James McCann and his almost 120 games of catching last year around, to be available when Grandal needs a rest or shifts to DH for a day.
Ideally, Grandal would catch around 100 games, DH another 30 or 40, and be healthy for the playoffs. It could look quite different than that if Jose Abreu and Edwin Encarnacion are healthy and productive all season, claiming the DH slot between them, but that would be a good problem for the Sox to have. They've given themselves a lot of options and a lot of talent.
Garrett Whitley (OF Rays)
Baseball has largely fixed the screen issue, but only after tragedy as several people, including a child, had their lives altered by a simple foul ball. After seeing Garrett Whitley take a foul off the face, I wonder if more can't be done for the players. A hockey style Lexan screen would protect them without blocking any view. Many teams already have some sort of screen in place, but it would be easy to test where there might be gaps in the protection.
Whitley is lucky, or as lucky as you can be after having multiple facial fractures. He won't need surgery and there's no apparent damage to the eye. The best comp here is Giancarlo Stanton when he took the pitch to his face. Just as that injury pushed the adoption of the "C flap", maybe Whitley's injury will similarly make the game safer for everyone.
Whitley could be ready for the start of the season, though where that start may come is in question. He missed all of '18 after labrum surgery, but did well in '19 at A-Stone Crabs*. He could re-start there and push up to AA-Biscuits once he shows he's healthy and ready.
* Yes, I've decided to standardize how I refer to the minor leagues as Level-Nickname. It's just more fun to say "AA-Blue Wahoos" than it is "Double-A Pensacola" or something equally mundane. If teams are going to get wacky with the names - I'm looking at you, Sod Poodles and WooSox - then why not go with it?
Quick Cuts:
Justin Turner escaped a HBP on his hand with nothing worse than a bruise. I still do not understand why hitters don't wear padding and never will … Freddy Galvis already had a sore shoulder, so a strained quad serious enough to require an MRI has to have the Reds a bit concerned about his availability. The Reds are a bit thin at short unless they get creative … Griffin Canning is getting a second opinion on his elbow. Sources tell me he's choosing a surgeon for Tommy John … Is it time to do another edition of "Top 10 Surgeons in Sports"? … Welcome to all my friends from Atlanta who listen to me each Thursday morning on 92.9 The Game. Thanks to John, Hugh, and Abe for the shout … No UTK on Saturday. I'll be traveling with UIndy to take on Truman State in Missouri for a three-game set. It should be available on streaming through this link. (https://glvcsn.com/truman/) Corey Bates goes in Game 1, following on his 7-inning, 15 K performance last Saturday.